Alaska Folk Arts Camp celebrated its twentieth year in Anchorage, Alaska taught by the legendary Mary Schallert. She's been teaching for many years giving the gift of music to folks starting at a young age. Watch the Mary Schallert Profile from Rhonda McBride on Vimeo.
I have bad memories of being chained to a piano to "practice," with old Mrs. Clutter banging a ruler on the table to keep time. Mary inspires! Sure you have to practice but you do it with other kids and call it a band. Music is transformed into fun and many successful musicians have sprouted from her music lessons.
Each summer around the solstice kids and adults come together at camp to make music. For the past several years I have designed a camp t-shirt, beginning with 1999 when my kids were there. Now my older kids go back and teach at Mary's camp and I am fortunate to still be involved with the t-shirts.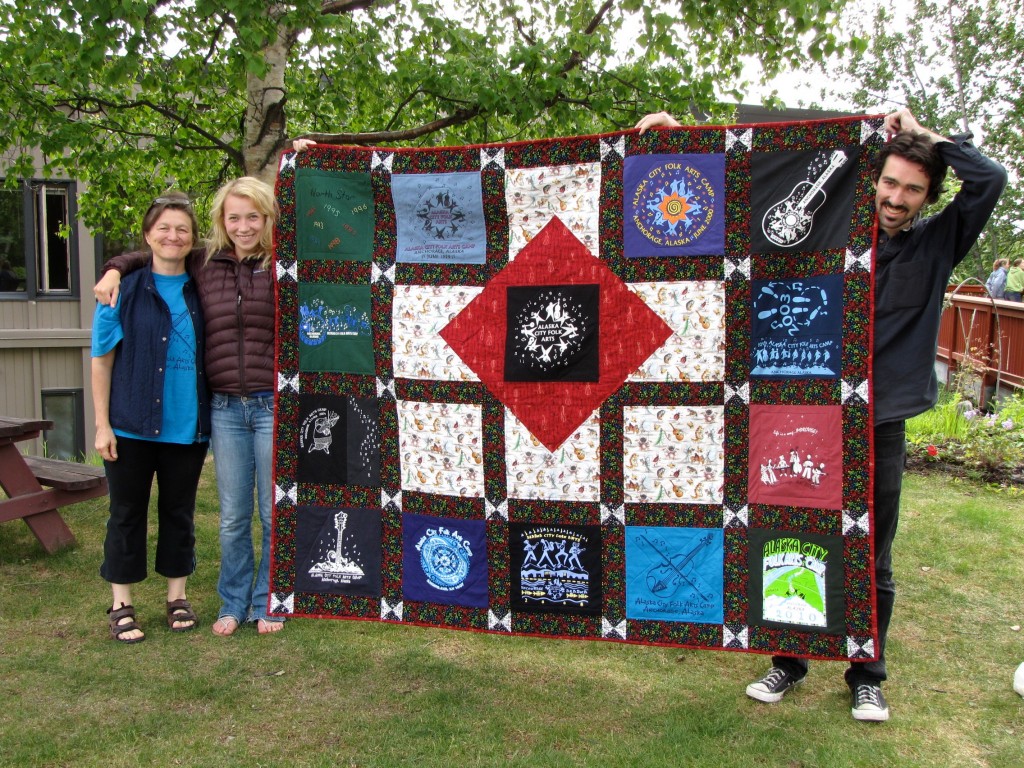 Each year has a musical focus on a particular instrument or a guest speaker. Last year the shirt was used as a teaching tool with a bluegrass riff. This year the kids will learn about the rules of jamming together with the 2013 TEN JAMMANDMENTS by Robert Rosenberg with edits by Mary Schallert.
Click on the gallery below. I pulled together sketches and drawings for the art over the years. I am missing 1999 and the image for 2000 which was a very colorful purple shirt with a midnight sun burning in the center of the logo of dancers. You can see them in the photo of the quilt. If anyone knows the name of the quilt maker, please let me know!