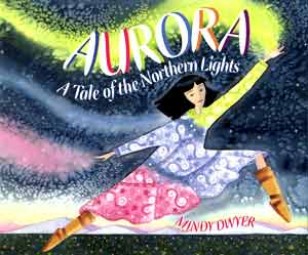 Last spring an Alaskan teacher used Aurora: A Tale of the Northern Lights as a mentor text with her 2nd graders, focusing on vocabulary, narrative writing, and story retelling. The children got excited about the word choices and how the illustrations helped them to understand the meaning of the words. They wrote letters to the Alaska State Literacy Council selection committee in support of the nomination for the Forget Me Not Award 2014 and here are a few excerpts:
"Our class read Aurora: A Tale of the Northern Lights by Mindy Dwyer. She's a great children's author. Her illustrations match her words! She has great ideas, and her illustrations 'pop.'"

"We loved it. I liked when the lights looked like a rainbow in the background."

"And her book just described the colors she was using, for example indigo… the color of the inside of a blueberry! …the color of the sky in the darkness."

"Her illustrations were very colorful. With all the bright colors it was beautiful."
The Alaska State Literacy Association is committed to promoting literacy and to developing communities of lifelong learners and informed decision makers. In support of that commitment, each year ASLA honors an Alaskan author whose published work about Alaska, either fiction or nonfiction, makes an outstanding contribution to children's literature. The selection criteria is based on one specific work by an author who lived in Alaska at the time the book was written. The book must have an Alaskan theme and be nominated by a member.
I will be awarded the Forget Me Not Award in February along with a trip to Anchorage to attend the ASLA professional development session with literacy workshops, and receive a Forget Me Not pin in a shadow box with engraved placard. This year's speaker is Doug Fisher. His specialty is "close reading," or how to understand complex texts. He supports student collaboration, teaching with the new standards, and using technology. He has published several books including Text Complexity: Raising Rigor in Reading that will be used in the session. Doug Fisher will be broadcast via video so members in Alaskan councils can watch it.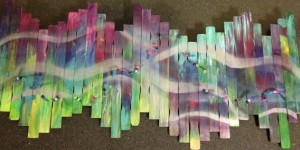 Last year, children of the Ravenwood Elementary School in Eagle River  created a northern lights sculpture as a gift to Sandy Hook Elementary School in Connecticut along with a copy of my book,  Aurora, A Tale of The Northern Lights. Read more at blog post The Gift of Art.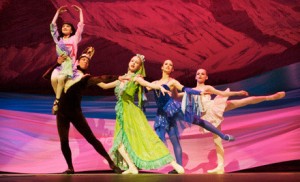 These are dancers from the Anchorage ballet performing Aurora. Read blog post When Your Characters Dance or watch the dancers:
http://youtu.be/sKqbx1o2UZ8
Wow! Aurora and I have made a contribution to children's literature and won't be forgotten.