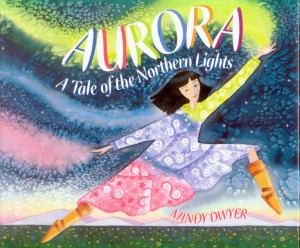 The first time I tried to illustrate the elusive northern lights, I used chalk pastel. I thought I could duplicate the ethereal softness by smearing and blending colors across a dark blue paper sky. I was looking for magic. I found it when I began experimenting with ordinary salt tossed into wet watercolor. I used that technique for Aurora, A Tale of the Northern Lights. Read more about the writing of Aurora.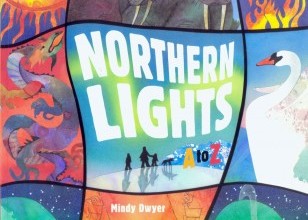 For Northern Lights A-Z, I collaged hand painted papers. To create an inventory of colors for my palette, I used a variety of painting techniques including French Marbled paper, straw blowing, bubbles, saran wrap texture, plexiglass monotypes, splatter, wet on wet and of course the salt!  See It Looks Like Rain, from a workshop taught at the public library in Sitka, Alaska.
The paintings in Northern Lights A-Z are special to me because of the times they represent in their making. Our family had just moved to Port Townsend, WA. We traveled cross country with all that we could stuff into two vehicles and one van towed behind with extension ladders tied to the top. We needed tools after all, we were going to build a house in the City of Dreams. Our first month was spent in a tent while we searched for a place to live. That first year we bought four lots and began to build our house. But before the dream house went up, two little buildings, (the sheds) were built which we promptly set up as studio, tool storage, cook house, and sleeping quarters. Yes, all of those things. The hand painted watercolor papers hung from clothes lines inside the studio shed amidst the hammock ropes. Swaying sheets of colors and sleeping children carefully intertwined as I made papers of every color for my palette.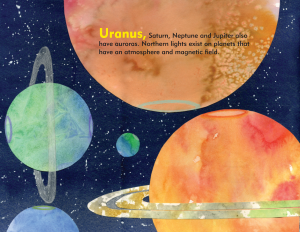 I cut shapes and glued pieces together to build pictures and mounds of color coded scrap piles replaced the clotheslines. Here is a page for "U" in the book.