My new hero is Austin Kleon.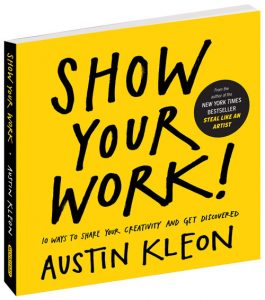 I signed up for his newsletter, and got his book SHOW YOUR WORK from the library.
There's a lot to like– enough to want to hear from him once a week:
Austin:
-appreciates the creative side of analog, yet is very digital
-draws as he writes
-believes in sharing what you are doing
-sharing what you like about what others are doing
So here's my shout out to Austin! Thanks!
Every morning I get my cup of coffee and go to my Thinking Chair (like Winnie the Pooh's log). I have a small lined notebook where I jot down what day it is, and sketch a little banner sized drawing of the sky,

a short to-do list (sometimes a long one) and then have a space to doodle, dream, scribble crazy ideas and then begin my day.
I've never been a consistent diary keeper, this practice began as a way to contain the crazy ideas, keep them corralled in a safe place, away from my projects where they get in the way with their silliness and bright shiny newness, pulling at me to procrastinate and be lured away to something fun and absurd. Austin is a believer of these little blurbs and jots. They have a purpose and will grow into bigger things. So now I am happy that I am saving them for some later date when they might come in handy. His are all immediate and posted. Mine are like little seeds in the ground safe in the dark where they are germinating. This practice has now grown into a daily haiku as part of my observation of the sky. At first I wrote whichever 17 syllables popped into my head, now I sit and watch first. I practice observing my surroundings, seeing what I can see and saying something about it in just 17 syllables, 5-7-5. I think I am improving in my ability to observe and accomplish this small task. Every day. Perhaps these small efforts will bloom into something one day?
Along with my thoughts and haikus I added a single frame daily comic. Now I must read the book, How to Read Nancy: The Elements of Comics in Three Easy Panels Paperback – essays by Paul Karasik and Mark Newgarden. According to the cartoonist, Ernis Bushmiller, "Everything that you need to know about reading, making, and understanding comics can be found in a single Nancy strip."
Daily practice leads to doing work no matter how small, to what it is that I like to do, what I am drawn to and this informs where I want to go.
I've heard that Art Speigelman's studio is kenetic, like an alternative school class room set up with individual work stations where you can freely move around, creating. As your body moves from task to task your brain shifts its muscle memory. I think better with a pencil in my hand. I use the hands-on tools to create the work, then manipulate and finalize on computer.
My three stations:
-comfortable chair for contemplating, doodling, writing
-drawing and painting with real tools (standing or sitting)
-computer with scanner, printer and…a digital pen (standing or sitting)
Now I'll start paying attention to see where I spend most of my time.
Favorite hands on tools:
-number two pencils with a good eraser.
-Flair markers by Paper mate
-For waterproof ink I love the Faber –Castell ECCO pens.
-Parker fountain pen, inexpensive, never clogs!
Artists and writers have favorite pens…what are yours?