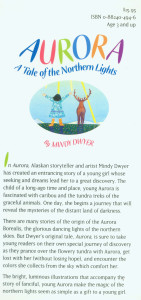 Do you remember that grammar function in Word that assigned a grade level to your writing? I never paid much attention to it. Now I wonder how the analytics tool worked and why it is not available any longer? I had never planned to write a "kindergarten book" or an "8 year old book", I just set out to tell a story, one with a lot of pictures. When it was published, the editors assigned a reading level for the cover flap. Aurora was given an age 3 and up rating.
So, how do you tell a story simply, using few words? How do you make sentence structure direct, short, clean and yet layered and complex enough to allow children to wonder, to experience new words, and have understanding?
I read a review on The Salmon Princess, Alaska's Cinderella that wished there was a Lexile rating.
A what?
Googled it and learned that the text is analyzed by MetaMetrics then given a rating based on it's semantic (meanings of words) and syntactic elements (the way words are arranged together in sentences to communicate.)
A reader has a relationship with a book based on it's design, the age and interests of the reader and it's content. On the scale, the first Harry Potter book is an 880L (880 Lexile).  A book with a score below 0L is BR, a beginning reader book.
I found the following information from Scholastic on Aurora, A Tale of the Northern Lights:
Ages: 5, 6, 7
Interest Level: Grades K – 2
Grade Level Equivalent: 4.1
Lexile Measure: 800L (top of third grade level mid fourth grade)
DRA: 28 (third grade level)
Guided Reading: L (second and third)
Genre: Westerns
This means that Aurora appeals to a kindergartener but is at the reading level of a third or fourth grader.
Marc Aronson, an editor, author, and Common Core consultant for schools and libraries has this to say about Lexiles:
"Too much emphasis has been placed on the Lexile Framework for Reading as a means for determining age-appropriate texts. Lexile levels are quantitative measurements of a book's reading complexity based on word and sentence lengths. Yet texts are not always so cut-and-dried. For example, Aronson said, according to the Lexile system, a book about dinosaurs might not be an appropriate selection for a six-year-old, due to the fact that dinosaur names are long and polysyllabic. And yet, Aronson said, dinosaur books have tremendous appeal for kids of that age range, who might be so immersed in the topic that they don't notice that they are tackling such challenging words."
I've always thought it was good practice to expose an intended age group to sophisticated words, especially when there are pictures involved.
Listening to educators speak about the Common Core at the Alaska State Literacy Association conference in February, I learned that this is exactly what you should do. When you read books to children out loud, books that are over their reading level, they learn vocabulary, by listening. I think parents who read to their kids know this to be true.
I found online services that calculate reading ease, the FOGG, the SMOG, and the GUNN, all tools designed to make insurance manuals readable to the general public or for use by the military for instructions. Yikes! You want high ease of reading yet not too low a grade level or you end with three word sentences and one syllable words. The system is very algebraic.
I tried one of the tests. A list of sentences appeared that could be rewritten for better ease of reading. So, I examined each sentence. Was it getting to the point? Did it go on and on unnecessarily? Did I begin with what I was really talking about or tack it on at the end of the sentence? I shortened, rewrote, rephrased each sentence and ran it through again.
In the process, I realized I was simply telling a story to a younger set and all I had to do was imagine them sitting there criss-cross applesauce on the carpet listening to me, waiting for me to hold up the pictures so they could see. The pictures are in my head as I create the story and I share them as I write to those little eager listeners, quite good at picking up detail, astute to something that just doesn't make sense, following the storyline and anticipating the ending. I keep them with me when I write.