written and illustrated by Mindy Dwyer
Quilt of Dreams celebrates the special relationship of grandmothers, mothers, and daughters and their labors of love that result in spectacular quilts.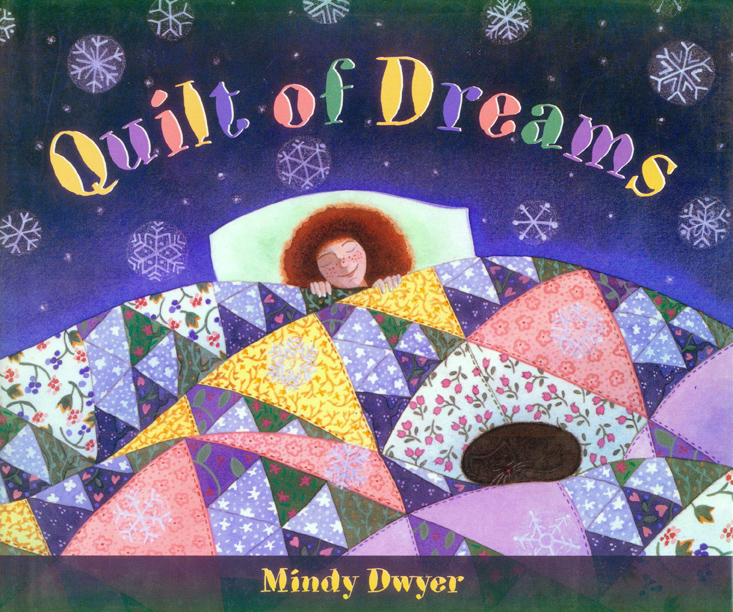 A Children's Book Council Seasonal Showcase
Choice Award by the Pennsylvania Young Readers, Grades 3-6
Pennsylvania School Libraries Association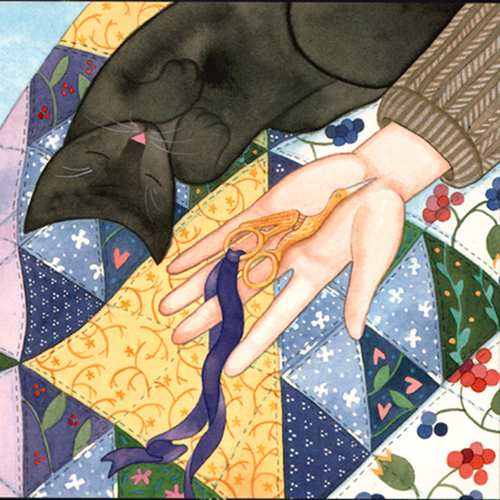 "Softly colored, gently stylized illustrations show Katy and her mother, along with their cat, snowed in at their cozy northland cabin. Katy and Mom memorialize Katy's grandmother by completing a quilt Gram had cut out for Katy before she died. Dwyer's text, though occasionally labored and wordy, is a contemporary ode to quilts–their patterns, creators, and the way they provide a link between generations."
–Hornbook Guide to Children
"Dwyer's softly shaded watercolors exude cheeriness and warmth, and her patterns create a coziness befitting her subject…" Ages 7-up.
–Publishers Weekly
After Grandma passes away, Katy is flooded with memories every time she wraps herself in one of Gram's wonderful quilts. Each one holds a story that was stitched into place with love. Then Katy and her mom find the beginnings of a quilt labeled "Kate's." With only one patch completed, it's a mystery just waiting to be solved. What should Katy's quilt look like? What story did Gram have in mind for this special gift? Journey with Katy as she discovers the magic of quilting and captures her memories of Gram forever.