Treasure is a lovely tale for beginner readers that teaches simple word concepts with sweet illustrations." – Children's Book Council: Hot Off the Press, April 2019
"Author/illustrator Dwyer exhibits remarkable skill in creating this story (Treasure) of friendship and sharing, with its minimal text and well-designed illustrations." – Kirkus Review, February 2019
This book is a quiet story of treasure lost and found, and the beautiful developing relationship between a black crow and a curious child.
A crow watches from afar as a child collects a unique assortment of curios in a secret hideout: a thimble, a button, a ribbon. When a storm hits and scatters everything, the child must search for the beloved items again. The crow returns one of the lost items, and in return the child offers something else. Together child and crow discover the best gift of all. Treasure is a lovely tale for beginner readers that teaches simple word concepts with sweet illustrations.
---
---
---
---
---
CHIA & THE FOX MAN
written by Barbara j. Atwater and Ethan j. Atwater
A beautifully illustrated Alaska Native story of a young boy and his encounter with the fabled Fox Man, and how doing the right thing isn't always easy but important in the end.
Life is hard for Chia. His village doesn't have enough food and every day there are many chores to do. Chia always goes to bed hungry and tired, until one day in the middle of the night he wakes to a strange noise. He decides to investigate?and meets the legendary Fox Man. Will the Fox Man be able to help Chia and his village?
By the same team who brought you How Raven Got His Crooked Nose, this modern retelling of a traditional Dena'ina story teaches young readers that there is strength in humility and in doing what is right, especially when it's hard. Also included is an author's note about Alaskan Dena'ina stories, plus a glossary of the Dena'ina words and their pronunciation.
---
---
IT'S ONLY THE WIND
written & illustrated by MINDY DWYER
---
It's Only the Wind is set in the foothills of the mountains. It is that time of night when young kids have a hard time transitioning to sleep and call out to mom from bed with one request after another. This story playfully hops back and forth between real and imagined, fact and fantasy, from soft, shadowy quiet to bright and colorful action. The story celebrates children's heightened imagination with imagery that takes the children from their cozy beds into the sky, away from their room as they envision the meaning of their mother's explanations. Wind words lyrically wind through the double spreads as the kids fly, sweep, sing, and sail always with their eyes closed, as mom has asked them to do so they can be ready for sleep. Sprawled among their bed sheets, the children's curiosity is finally satisfied, as you will see in the end. Wind facts included on the last page.
"Charmingly written and beautifully illustrated . . . an engagingly fascinating story that playfully hops back and forth between real and imagined, fact and fantasy, from soft, shadowy quiet to bright and colorful action. . . Of special note are the wind facts that are included on the last page. Thoroughly entertaining from beginning to end. . . especially recommended addition to family, elementary school, and community library picture book collections for children ages 5 to 8." –Midwest Book Review
. . . Useful for established readers to share aloud with beginners. A tame and traditional choice for bedtime. (Picture book. 4-7)" —Kirkus Reviews
the fairy tales
The Salmon Princess, An Alaskan Cinderella Story
written and illustrated by Mindy Dwyer
Amazon IndieBound
This book is dedicated to Katey because she never liked salmon guts either!
In this adaptation of the well-loved fairy tale, the father still has his head in the clouds and the stepmother is as mean as ever. But this story is set in the Last Frontier, and its details and imagery reflect Alaska's landscape and sensibility: the fairy godmother becomes an eagle spirit, the glass slipper a fisherwoman's boot. Evocative writing and colorful artwork distinguish this playful retelling of the classic. Here children learn about cultures and ways of life but happy endings are still the rule.
"The Salmon Princess: An Alaska Cinderella Story," is another fine addition to the growing list of literal wonders from Mindy Dwyer. Dwyer, who has moved to Port Townsend, Wash., has two talents: She can write a form of prose/poetry that sings directly to the soul, and she can create art that delights… Detailed studies in sophistication and composition, each illustration advances the story while it makes a home in the viewer's eye. Her work has a dignity and beauty that is rare in any form of art.-The Statesman Journal
This book has a great feeling about it, of wide open spaces and possibilities. The illustrations are just fantastic: Cinder's dress really is very salmonesque and the details of the Alaskan landscape, of giant trees and heavy fog are like a quick visit up north. The image of this gal in her silvery dress, firing up the skiff is a good one! And the illustration on page 15, of the "phosphorescent wake glowing like the train of a great wedding gown" glows with colors that break my heart. All illustrations are watercolors. –365 Cinderellas
The Salmon Princess, Dwyer's fourth book, marries Alaskan natural and cultural history to the Cinderella myth. It is rich with details of life in southeast Alaska, the fishing industry, salmon ecology and native traditions, and depicted in sweet and detailed watercolors. –Bellingham Weekly

---
---
---
Alaska's Sleeping Beauty
written and illustrated by Mindy Dwyer
Once upon a different time, far in the north, days were long and years took forever.
When the Queen of the King Salmon Fishery meets a talking salmon, she is told that a much-wished-for daughter will at last be born. But at the birthday celebration, one of the guests makes the pronouncement that the girl — named Alyeska — will choke on a salmon bone and die! This Alaskan retelling of the classic fairy tale spins the story of a strong-willed girl and her long, long sleep in the land of salmon, mountains, and wildflowers.
"All in all, it is a really good story; it is a fairy tale, after all. And there are a lot of real things about Alaska here, too, like salmon and fireweed (a really pretty bright red flower) and panning for gold. The pictures fit perfectly with the story being told. It's a wonderful, magical story and is very unique."
—Kids Book Review
"The illustrations done in watercolors are bright and cheerful and suit the story."
—Puget Sound Council for the Review of Children's Media
"Alaska's Sleeping Beauty is a sing-song tale infused with pride of the North. The book follows the fate of Alyeska, a copper haired princess that falls victim to a sleep-induced spell after choking on a salmon bone. Fireweed, sled dogs, canneries, and smoked salmon—Mindy [Dwyer] transforms it all into a magical world."—The Rural Roost
Alaskan Battle of the Books 2014
---
---
---
Alaska's Snow White and Her Seven Sled Dogs
written and illustrated by Mindy Dwyer
Children and adults alike will enjoy this Alaskan take on the classic Snow White fairy tale. The evil Ice Queen, threatened by Snow White's beauty ("lips redder than a salmonberry") sends an assassin musher, then disguises herself as a trapper to deliver a constricting fur coat. Finally, she gets to Snow White as a friendly homesteader offering a peppermint drink that freezes our heroine. Thank goodness the Great Race means a handsome young musher finds Snow White—and warms her with love and a cozy fire. They mush happily ever after when the Ice Queen's rage makes her skate right through the ice to her demise.
"This story is refreshingly different than original because of this winter twist, the setting being an Alaskan village. Snow White is no damsel in distress this time around! She is still the fairest of all the land, but now is also a brave and highly skilled Alaskan musher and fearless leader of her seven faithful sled dogs, which replace the classic dwarves. The Evil Ice Queen still uses a mirror but to be fairest of all is to be the best and most beautiful ice skater at the Ice Festival. The classic poisoned apple is replaced with a cold, Alaskan blue peppermint drink.
We truly enjoyed this enchanting retelling of the classic tale. I appreciated the Alaskan Snow White for all her new strengths! The book is a nice escape into the Alaskan traditions and ways of life. I was not surprised but very interested to learn that the author lived in Alaska for many years. The illustrations of this book are absolutely beautiful! The story line is considerably different in this retelling, and the artwork is gorgeous, but it leaves you wishing there was more beautiful artwork to accompany every single aspect of the story!"- Great Advice From Great Moms

"This is the story of Snow White, only it is set in Alaska. Snow White has dogs instead of dwarfs, and she is a sledding girl. She has to run from the queen, who is jealous of how beautiful she is, so she hides with her dogs in a cave. The queen is wicked and magical, and there are different ways the queen tried to kill Snow White: The second time, she gave Snow White a sleeping potion to drink, and another time she gave Snow White poisoned moose jerky to eat, but her dogs sniffed it. Also she made a rabbit-fur coat that squeezed Snow White's breath out of her. At the end, the wicked queen skated to death on an icy pond. The pictures are beautiful and interesting; Snow White is very pretty. The pictures look very cold and snowy, like Alaska is, and there are icy mountains and animals from the Arctic. It has a lot of detail in the story that goes along with the pictures. I liked this version of Snow White." -Reviewed by Rachel, Age 8, San Francisco Book Review
"Celebrated author and illustrator Mindy Dwyer returns with another delightful Alaska retelling of a classic tale. Joining Dwyer's successful Alaska fairy tales ("The Salmon Princess" and "Alaska's Sleeping Beauty"), this new book introduces a princess reimagined." -Alaska Dispatch News
---
---
TALES OF HOW THINGS CAME TO BE
How Raven Got His Crooked Nose: An Alaskan Dena'ina Fable
retold by Barbara J. Atwater and her son, Ethan Atwater, with illustrations by Mindy Dwyer
In the book, Grandmother tells granddaughter the tale of the trickster raven who loses his nose and vows to get it back. With the help of special powers, Chulyen devises a clever plan to retrieve his missing nose and learns an important lesson about taking the time to do things right.
The story is a modern and authentic retelling of a traditional Alaska Native fable and includes a glossary of Dena'ina words to learn. (According to Alaska Native Language Center, only 50 people speak it as a first language.)
"Whenever our great uncle Walter Johnson told us a story he would say, 'Now you go and tell this story in your own way.' We have taken this both as permission and as a directive," Barbara says.
We hope you enjoy and share Grandmother's story of Chulyen.
"In this retelling, which is gently laced with Dena'ina vocabulary, readers learn not only a cautionary tale, but also facts about the culture. . . Both entertaining and instructive, a refreshing breath of air from the far north." – Kirkus Reviews
"A wonderful trickster tale, set as a morality tale for children in the most clever, dramatic way. Just perfect illustrations in tandem with the authors' tribute to their family's storytelling traditions. I was so intrigued, I've done further research on Chulyen the Raven, as I've mostly read trickster tales from elsewhere. Said the raven to me: Read some more!". – Carl Lennertz, Children's Book Council Bulletin
---
---
---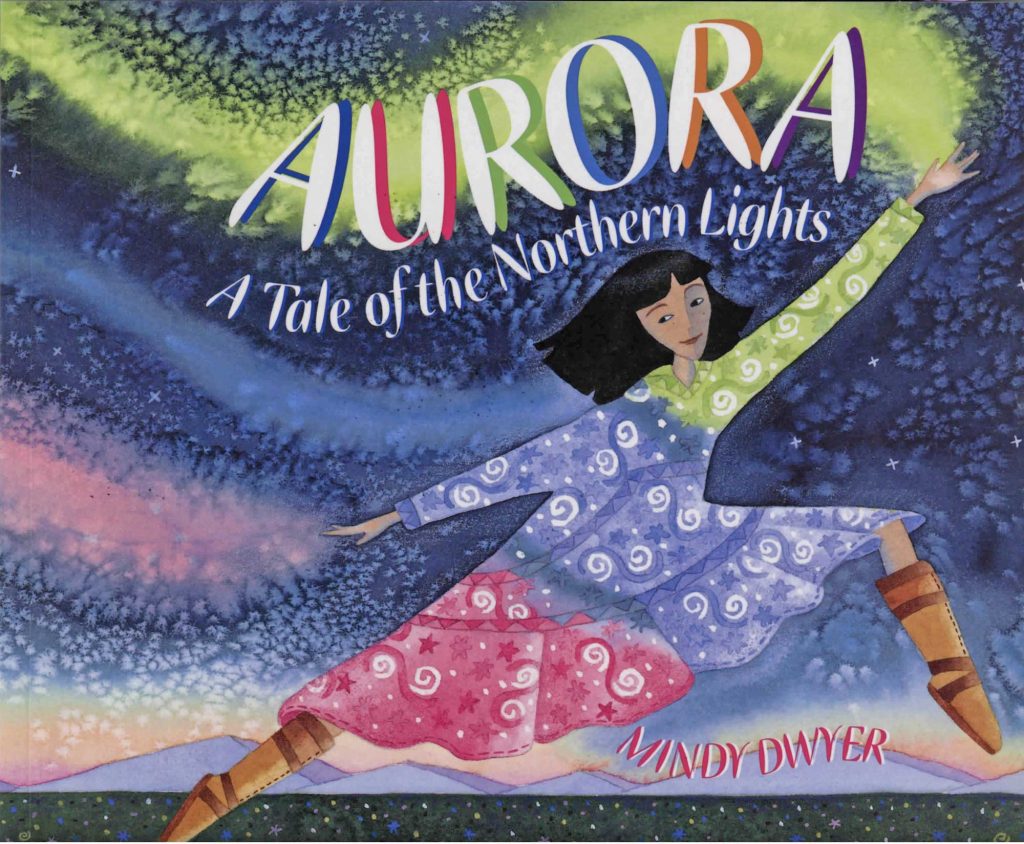 ---
Aurora, A Tale of the Northern Lights
written and illustrated by Mindy Dwyer
A magical story of a young girl whose seeking and dreams lead her to a great discovery, her own courage and the spectacular northern lights.
Early one morning in a long ago northern land, a baby girl was born. Her mother named her Aurora, which means the "rosy light of dawn.
"Dwyer has magic, and she wants to share it with the rest of us. Take her up on her offer. Neither you nor your children will ever forget the result." -Statesman Journal (Salem, Oregon)
"Not every child has seen the northern lights, of course, but even those who only have heard of them may be interested in this colorful book. The legend is pleasant, and Dwyer's brilliant watercolors bring it to life," -Parade Magazine
"This fanciful exploration of the origins of the Aurora Borealis, the northern lights is a scrumptious delight! "-Publishers Weekly
"The bright luminous illustrations that accompany this charming story make the magic of the northern lights seem as simple as a gift to a young girl. Aurora is a beautiful story, beautifully told." -Children's Bookwatch
Alaska's Battle of the Book List 2015
---
---
AWARD WINNING BOOK
The Children's Book Council, Inc. NOT JUST FOR CHILDREN ANYMORE!
Bookbuilder's West: Certificate of Excellence in Concept, Design and Manufacture
Valerie & Walter's Best Book for Children
An "old tale of love and the way things came to be." When a child asks for a bedtime story, Mama tells about Coyote, who falls in love with a beautiful blue star and serenades her nightly. When the star laughs off Coyote's offer of marriage, he becomes desperate and grabs her from the tip of a mountain. She scolds him and pulls him through the sky, declares him a fool, and finally releases the frightened animal. He crashes into the top of a mountain, leaving a gaping hole, and cries enough tears to fill it, creating Crater Lake. An author's note explains the tale is based on one told by a Coquelle Indian storyteller. Readers will smile at Coyote's arrogance and the star's sassy rebuff. The illustrations are painted in vibrant purples, turquoises, and blues, offset by soft greens and yellows. Coyote's stylized figure reflects the pointed shape of his beloved star. The text, on the facing page, is surrounded by geometric borders of a similar palette, and important words are emphasized with color. With an interesting layout and typography supporting an appealing tale, this is a worthy addition to collections. -From School Library Journal
Hear the song, Coyote in Love with A Star, by Jack Dwyer.
---
---
ALASKANA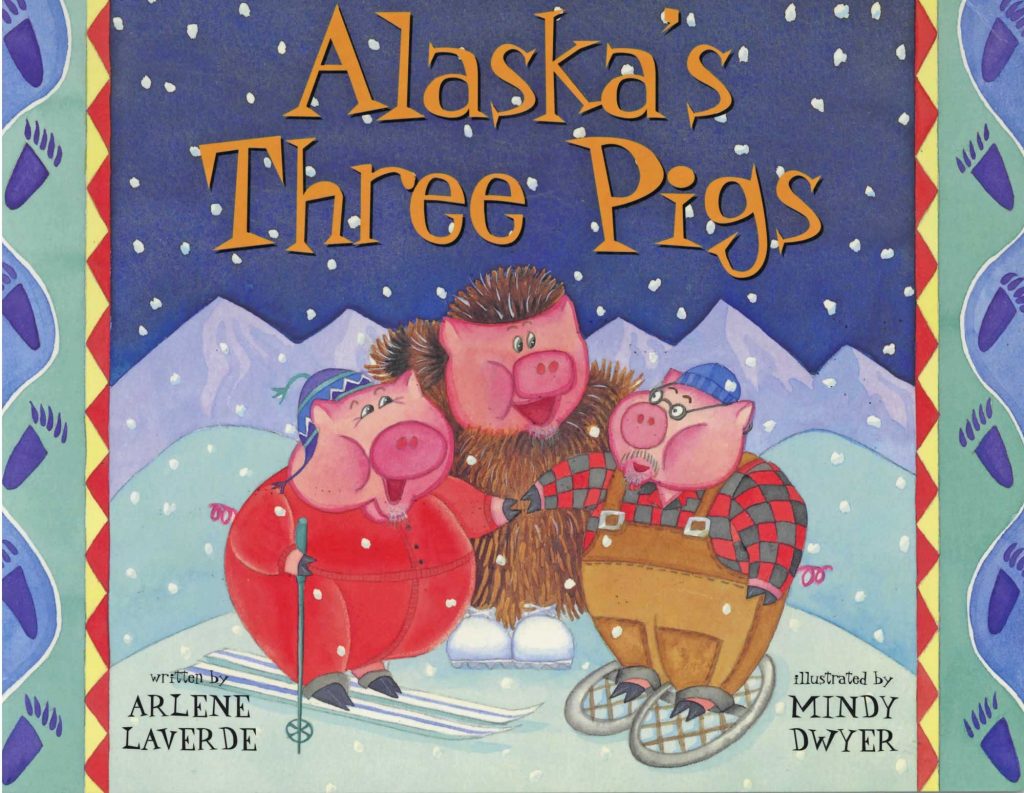 Alaska's Three Pigs
written by Arlene Laverde, illustrated by Mindy Dwyer
Amazon
Also available as a board book!
The classic children's fairy tale of the three little pigs is transplanted to Alaska in this superbly illustrated (Mindy Dwyer), engaging story by Arlene Laverde. After playing under the Midnight Sun, it's time to get busy and build safe homes for the winter. The first and second little pigs are creative, but it's the third hardworking little pig who uses solid glacier ice a good thing when a hungry grizzly bear is awakened! Ideal for young readers ages 5 to 8, Alaska's Three Pigs is enhanced with Alaskan details that enhance the charm and novelty of this truly splendid picturebook. Featuring the classic story of those irresistible little pigs–retold Alaskan-style, as the pigs camp, fish, ski, and build on the Last Frontier! This delightful take on the original is full of Alaska details and is sure to charm readers of all ages. Dwyer hasn't given up on her amazing compositions and this time she reveals a penchant for wicked visual puns! -Dan Hays, Statesman Journal, Salem, OR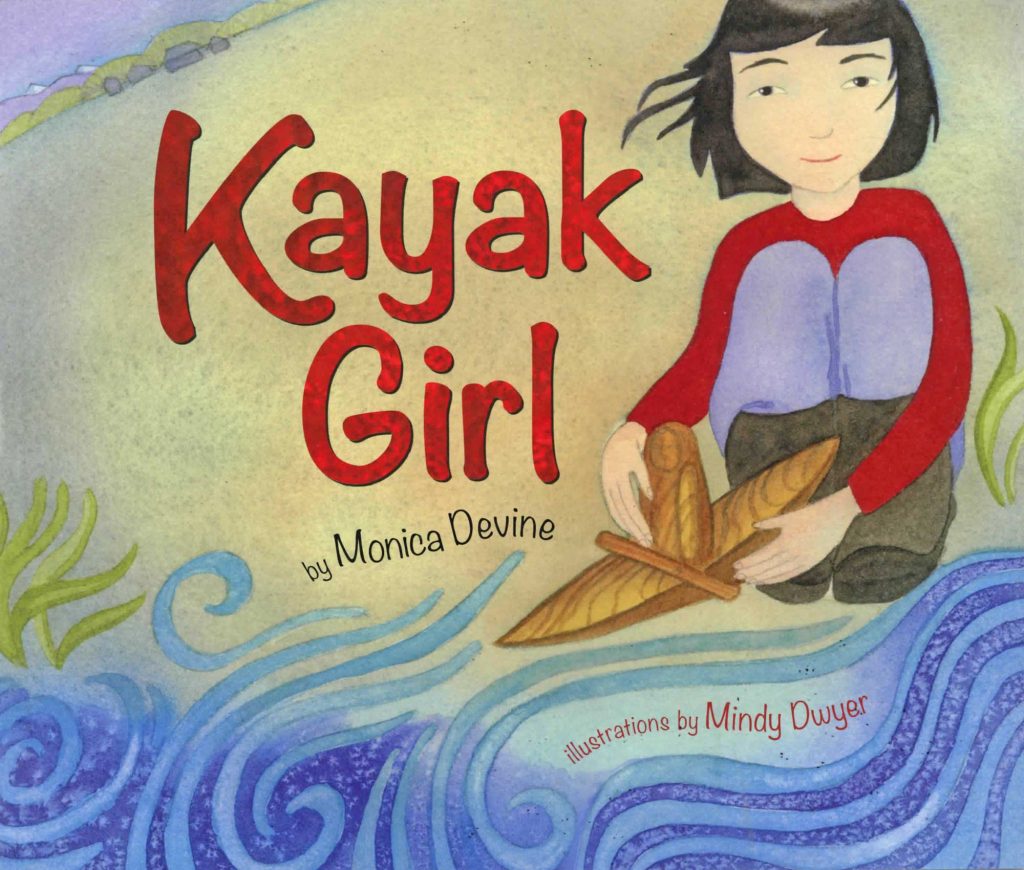 KAYAK GIRL
written by Monica Devine, illustrated by Mindy Dwyer
Grandfather carved a long, skinny boat with a girl inside. Let's call her, "Kayak Girl."
In Kayak Girl, a young child learns to cope with serious loss through the keen love of her grandfather's hand and heart. After Jana's mother dies, she becomes withdrawn and uninterested in playing outside with her friends, and helping her father catch fish for the family. Her grandfather, a carver, pays Jana a visit and carves a figure of a girl in a kayak. He asks Jana to promise to go down to the river, everyday, and watch for Kayak Girl after he releases her into the water from his village far upriver.
Through the following seasons, Jana goes to the river daily and finds strength in the positive memories from her short time with her mother, even as she imagines the distant kayak girl's struggles. After many trials, Jana and Kayak Girl are reunited, and Jana's spirit is revived. Throughout the book, watercolor illustrations take readers to a magical place along an Alaska river and demonstrate the power of memory and a sense of place in the natural world.
---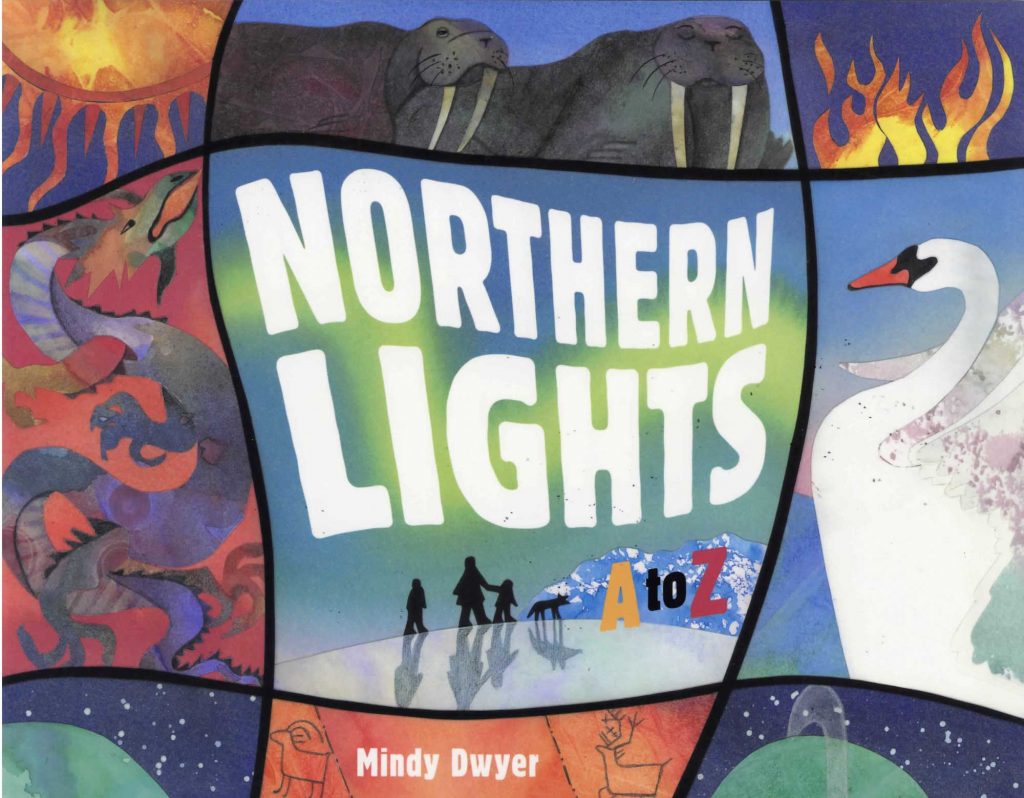 Northern Lights A-Z
written and illustrated by Mindy Dwyer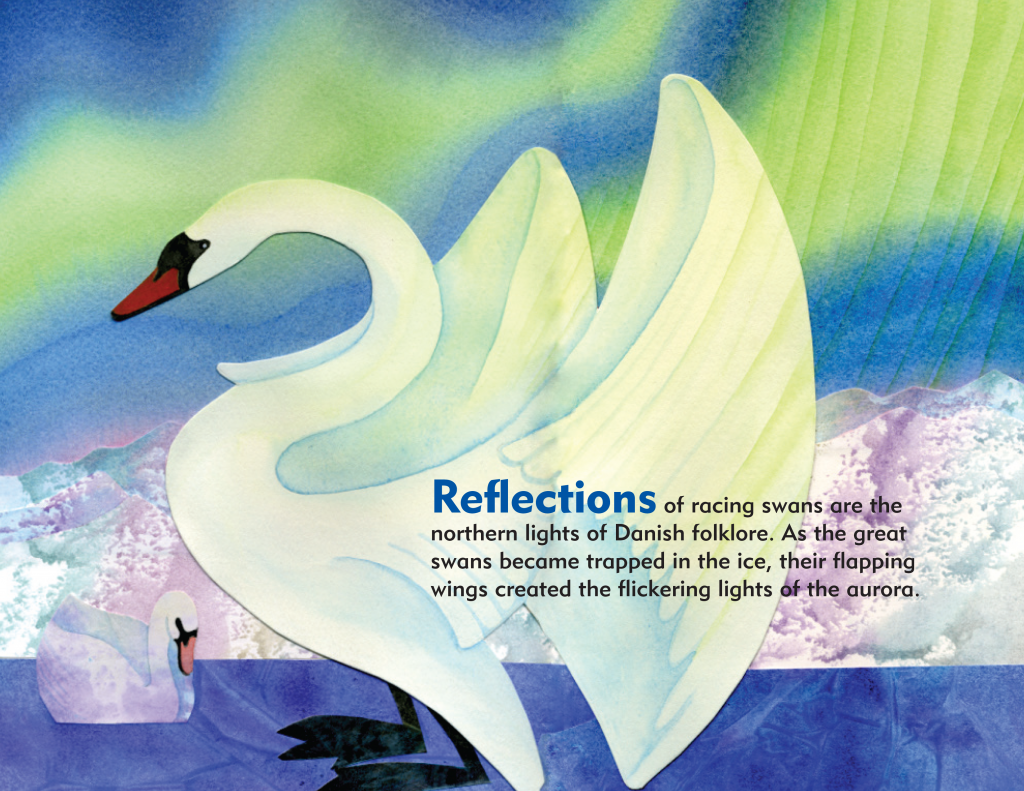 The Northern Lights, or aurora borealis, is one of nature's wonders and a major attraction for those lucky enough to view it. For those have never seen the Northern Lights, this book makes a wonderful introduction to this curious and colorful planetary phenomenon. The book's 26 facts and legends – one for each letter of the alphabet – illustrated with a watercolor collage style – explain both the science behind it (solar winds hitting the earth's magnetic fields) and the legends it has inspired, such as the fascinating Makah Indian myth that pots of boiling whale blubber created it.
This book has gone out of print but you can still find copies at
Amazon
---
---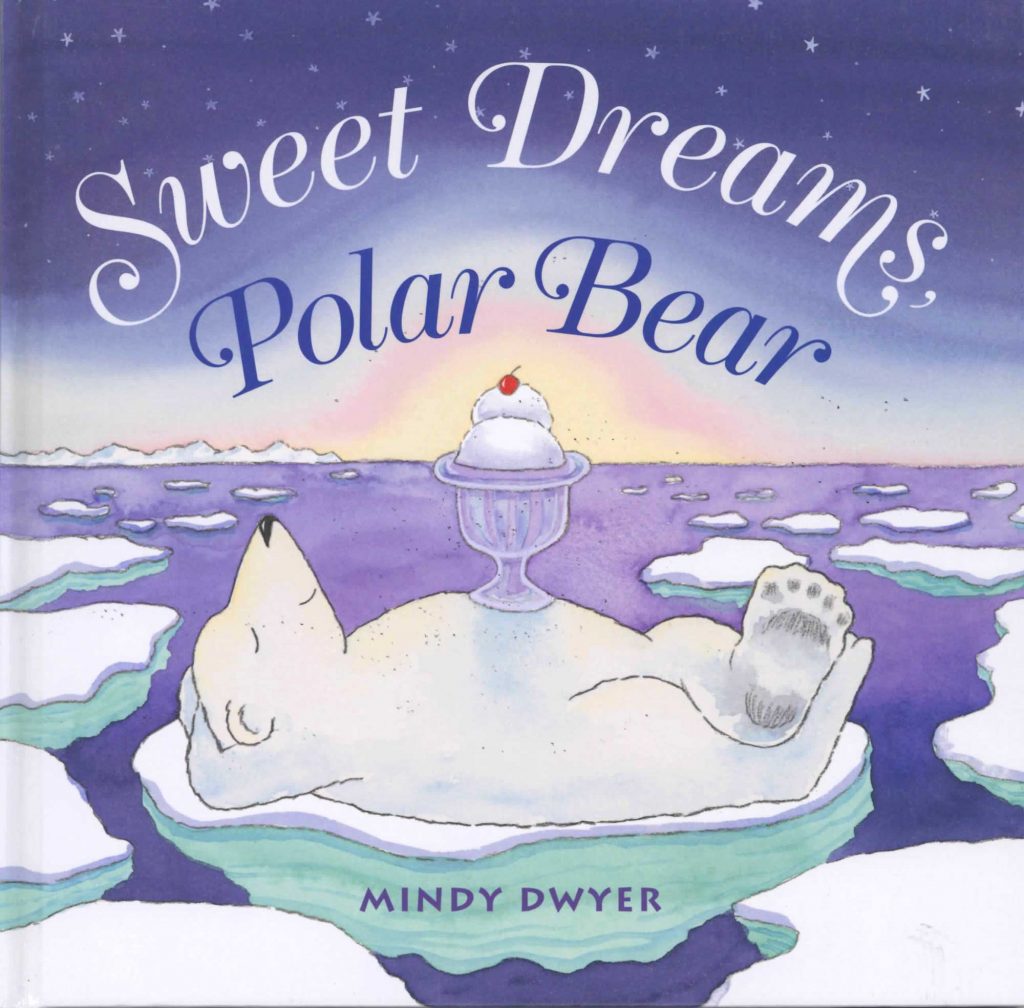 Sweet Dreams, Polar Bear
written and illustrated by Mindy Dwyer
PreSchool-Grade 1 – This bedtime confection presents several arctic animals and raises the question: "Do they dream like you do? Imagine it's true." Each spread shows a sleeping creature with the rhyming text wrapped around it. On the opposite page, the animal's "dream secrets" are depicted.
This bedtime lullaby will ease little ones into sleepy time with visions of the wild times that critters have in dreamland. Bright and playful watercolors create a fantastic world where a fancy poodle dreams of winning the Iditarod; a bear with a belly full of fish dreams of slurping peanut butter and jelly sandwiches; a plain white beluga dreams of painting herself the colors of the northern lights; and more.
The repetition of Sweet Dreams, Sleep tight for each animal encourages children to join in until it's time to settle down and dream their own fantastic dreams.
---
---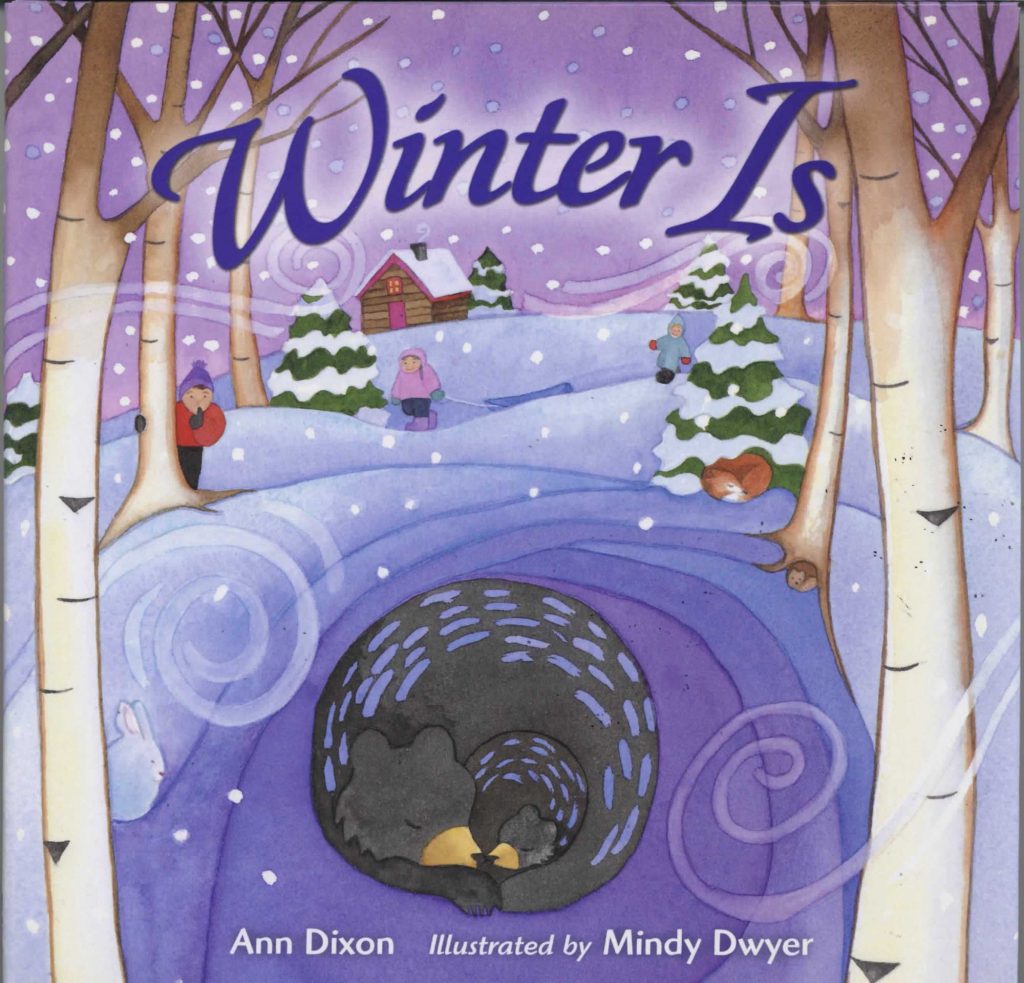 Winter Is
written by Ann Dixon, illustrated by Mindy Dwyer
This book has gone out of print but you can still find used copies at Amazon
Winter is white. Winter is cold. Winter is dark. Winter is bright. Winter is so many things, especially to a little one eagerly awaiting sledding, ice-skating, and other joys of the season. "Winter is" brings a child's anticipation of winter to life, with simple, evocative verse and delicate watercolor paintings of winter's wonders. A celebration of the many pleasures of the season, "Winter is" is a classic winter story for bedtime, or anytime a child may be dreaming of snowflakes.
---
HOW TO BOOKS
Quilt of Dreams
written and illustrated by Mindy Dwyer

"Quilt of Dreams" celebrates the special relationship of grandmothers, mothers, and daughters and their labors of love that result in spectacular quilts.
A Children's Book Council Seasonal Showcase
Choice Award by the Pennsylvania Young Readers, Grades 3-6
Pennsylvania School Libraries Association
"Softly colored, gently stylized illustrations show Katy and her mother, along with their cat, snowed in at their cozy northland cabin. Katy and Mom memorialize Katy's grandmother by completing a quilt Gram had cut out for Katy before she died. Dwyer's text, though occasionally labored and wordy, is a contemporary ode to quilts–their patterns, creators, and the way they provide a link between generations."
–Hornbook Guide to Children

"Dwyer's softly shaded watercolors exude cheeriness and warmth, and her patterns create a coziness befitting her subject…" Ages 7-up.–Publishers Weekly

---
Knitting with Gigi
written by Karen Thalacker, illustrations by Mindy Dwyer
Meet Gigi, a girl who's cool, hip, and loves to knit. Join Gigi as she shows you how to knit, step-by-step. The fun poems, colorful illustrations, and easy projects will get you started today! Gigi's spunky "You can do it!" approach will get you knitting like a pro. Knit eight fun projects, including a funky hat, a cool bag, and a pretty scarf. Watch family and friends light up when you give them something you've knitted yourself.
Amazon IndieBound
Gigi Knits …and Purls
written by Karen Thalacker, illustrated by Mindy Dwyer
Kids took their first knitting adventure with Gigi, that famous girl who's cool, hip, and loves to knit. Now Gigi returns to show young knitters how to purl and how to combine knit and purl stitches with her spunky You can do it! approach.
* Fun poems and delightful illustrations will inspire children ages 8 through 12 to expand their knitting skills or to try knitting for the first time
* Choose from eight projects, such as a simple scarf, hat, and purse, plus dog and cat mats
* Pages are chock-full of Gigi's kid-friendly knitting tips, plus ideas for knitting for family, friends, and charities
Gigi Knits …and Purls includes step-by-step instructions and 8 patterns.
Companion book and kit, Knitting with Gigi won the 2007 National Parenting Publications Award and the 2008 Independent Book Publishers Award. Debbie Macomber, New York Times best-selling author of the Blossom Street series says; "My granddaughters and I have loved Knitting with Gigi and look forward to more adventures with Gigi!"
Gigi is hip, she knits, and she can teach you to purl. With her easy patterns and illustrated instructions, Gigi inspires young people the gift of giving.
---
---