A Brownie troop in Alaska interviewed me for Career Day.  Mindy Is Marvelous is the title they came up with all on their own.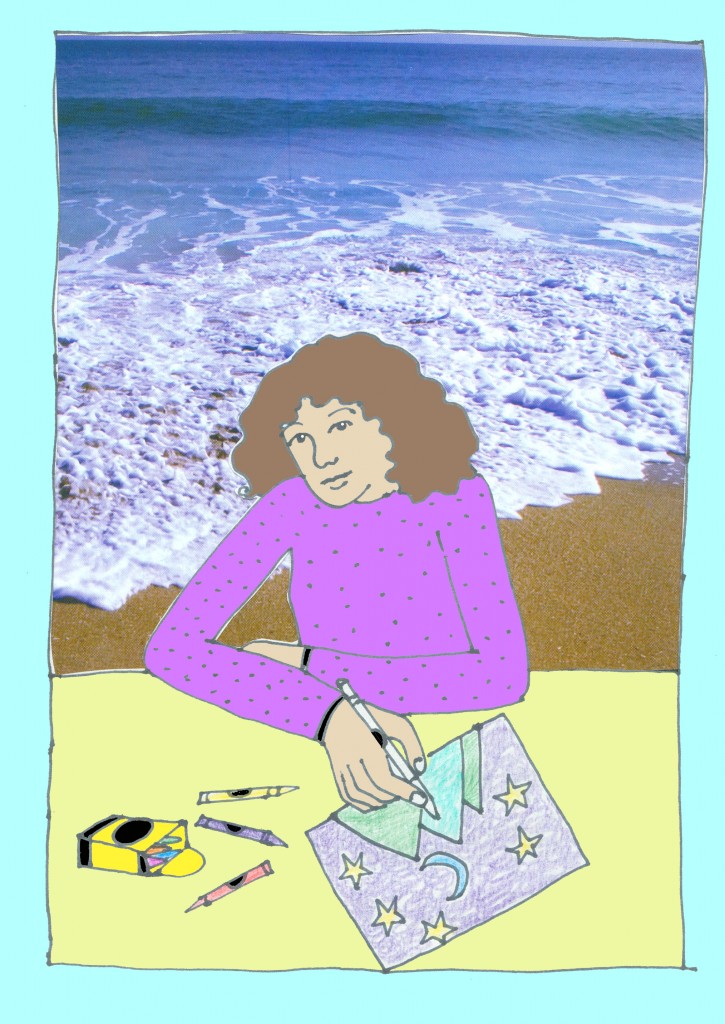 At what age did you realize your talents?
When I was little I loved to draw.  I liked to copy images from magazines and one time I found a "Draw Me" contest.  I mailed it in and an art school kept calling about enrolling me in their program. My mom told them I was just a kid and wouldn't be going off to art school. I never thought seriously about going to art school until after I graduated from high school.
What hobbies did you have as a child, and do you feel they helped form your career choice?
I loved coloring. My mom always had coloring books and crayons around, I think to keep me busy…but, I discovered that while I was coloring I could be doing something else at the same time. I was thinking about things, daydreaming and that was one of the ways I tapped into my imagination. I played outside a lot, too and we created adventures everyday.
What kind of education did you need to achieve your career?
I went to an Art Institute, a 24 month art school that taught me a lot of skills for using artwork as a job. This kind of training is not enough really, to be an artist you need art history, fine arts and a more rounded liberal arts education. Reading is important also, art often makes references from life, from currents events, history or literature.
Please describe your favorite defining moment of your career.
I was called into the publisher's office to illustrate a cookbook. I had previously sent in a proposal for a children's book called Coyote In Love. I was patiently waiting through the whole cookbook interview nodding and smiling and saying, " Yes, yes, I would love to do a cookbook." All the while I was thinking, "Why aren't we talking about the book?" Finally I took a deep breath and asked, "Have you considered the book proposal Coyote In Love?" I didn't want to be too bold or ruin a good job but she answered. "Oh yes, I saw that on my desk, I haven't opened it yet. Hold on I'll go and get it right now."
GULP! She was going to look at my proposal right in front of me! It is so hard to get a publisher to even look at a book proposal and now I would be rejected face to face. I started sweating listening to her walk down the hall wishing I could hide under the desk. The editor came back in sat down and flipped through the sketches for Coyote In Love. She liked it and promised that she could persuade her fellow editors to publish the story.
Wow! Now, I was feeling pretty good and definitely did not want to ruin a good thing, but I felt an opportunity nagging me. I took another really big breath and said," I have another story idea…would you mind taking a peek at it?
It was Aurora, The Girl of the Arctic Sun (my original title) – sketched out very roughly on computer paper folded in half. It was like rolling the dice double or nothing, I could win or lose. Well, she liked it but since it was so rough she said, "Clean it up, sketch it in and send it to me. I will show to the editors."  This is how I learned that you can't be shy, you must speak up for yourself and take chances.
Have you ever had a negative experience regarding your career?
Reading reviews or criticism on your work is always tricky, you can't take everything to heart. One time I read a review that zeroed right in on a clunky word choice. It wasn't even mine! It was an editors correction! I vowed to stick up for my word choices from then on. Look at the blog post called Reviews: A  Math Problem and you can see that comments are often contradictory.
What special tools, clothes, and equipment do you use?
When my kids were little I always had an area inside the house to work in with a table,  good lighting, a stereo, a cupboard or shelves for my art supplies and books and a filing cabinet. I used to keep lots of files of pictures that I saved as reference material. Now if I need to get an idea of what something looks like, I look in my book collection or I can Google it. Now my art studio is a separate little building in the backyard. I have lots of books, two computers, scanner, painting table, matting and framing tools, tons of art supplies,  and favorite little objects and beautiful things for inspiration.
What was your beginning salary and the projected earnings after 10 years? 
I imagined when I started as an artist I probably wouldn't make a lot of money. Artists work as artists because they love it and would rather do that than any other job. I now have 11 books that I earn royalties from. It's not enough to support a family so I also work as the graphic artist at Port Townsend Food Co-op.
Do you feel it was harder to achieve your goals as a female?  If so, why or why not?
No, there are a lot of women in the field of publishing and plenty of women artists. There was a time when women used pen names (a made up man's name) to get published and the same with women artists, it was easier to be recognized as a man. Luckily that is not how it is now.
How do you "stay real" or grounded when you are so well known & famous?
I am only famous in Alaska. One time when I was in a store a kid ran up and said LOOK, MOM, IT'S MINDY DWYER!!!! I got a kick out of it and I enjoy talking to kids. That never happens in my home town, I am  a regular person, I am somebody's mom.
What do you do to keep your mind & body healthy?
I read a lot, exercise and keep an adventurous lifestyle! I run a few times a week and do yoga, ride my bike and take walks. I also play music.  I have lived in many beautiful places and all of these things are good material for stories and art.
What do you plan to do for your next successful adventure?
A friend and I have co-authored a book and sent a proposal to London! We hope it will be published and we can travel to the United Kingdom!
What advice would you give to our young girls today?
Go to college, read a lot to expand your mind and never underestimate what you can do. Remember that  you have to take risks and try things in order to fulfill your dreams.
Can you tell us a funny story about yourself? 
My career as an artist was woven into my life as a mom. When I was 9 months pregnant and finishing up the last pages of final corrections for my book, Aurora I stayed up really late that night to finish the book before the baby came. As I put the last couple pages into the fax machine to the publisher, my water broke and I scrawled on the last page – gotta go – the baby's coming!!! The whole office was happy and I knew right then, that I would juggle being a children's book illustrator and author with being a mom.